Pizza Burger (standard toppings) $9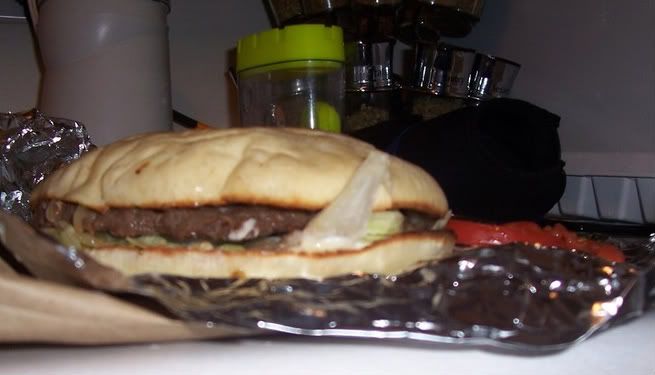 Pizza Pieman is a small Victoria chain (I went to the Tillicum location, which is somewhat near the mall) that's doing something a little different. Basically it's a Pizza Burger. You've got a wonderful bun that tastes exactly like how a pizza place smells, and topping options are virtually unlimited because you're at a pizza place (although I went with classic burger toppings). Ok, so those are the positives.
The negatives are partly to do with service, and partly to do with pizza place dynamics. I got my burger to go because there's almost no seating at the Pieman. You don't pay for your food until after you receive it, which means I almost ran out without paying because I was so hungry. It didn't help that the woman behind the counter had such a minimal level of english that she didn't know how to yell at my dine-and-dash ass in an effective manner.
Ultimately, however, taste is what I look for, not service, and this is where pizza dynamics come into play. Pizza places don't have grills — they have ovens. This mean your meat patty is heated up in a pizza oven and gets excrutiatingly dry. Dryer than an englishman's wit. It's unfortunate because otherwise this would be a neat addition to the Victoria burger landscape.
I went to Pieman way back in September and I haven't been back since. The bun is good, but not good enough to make up for that nasty, dry meat.